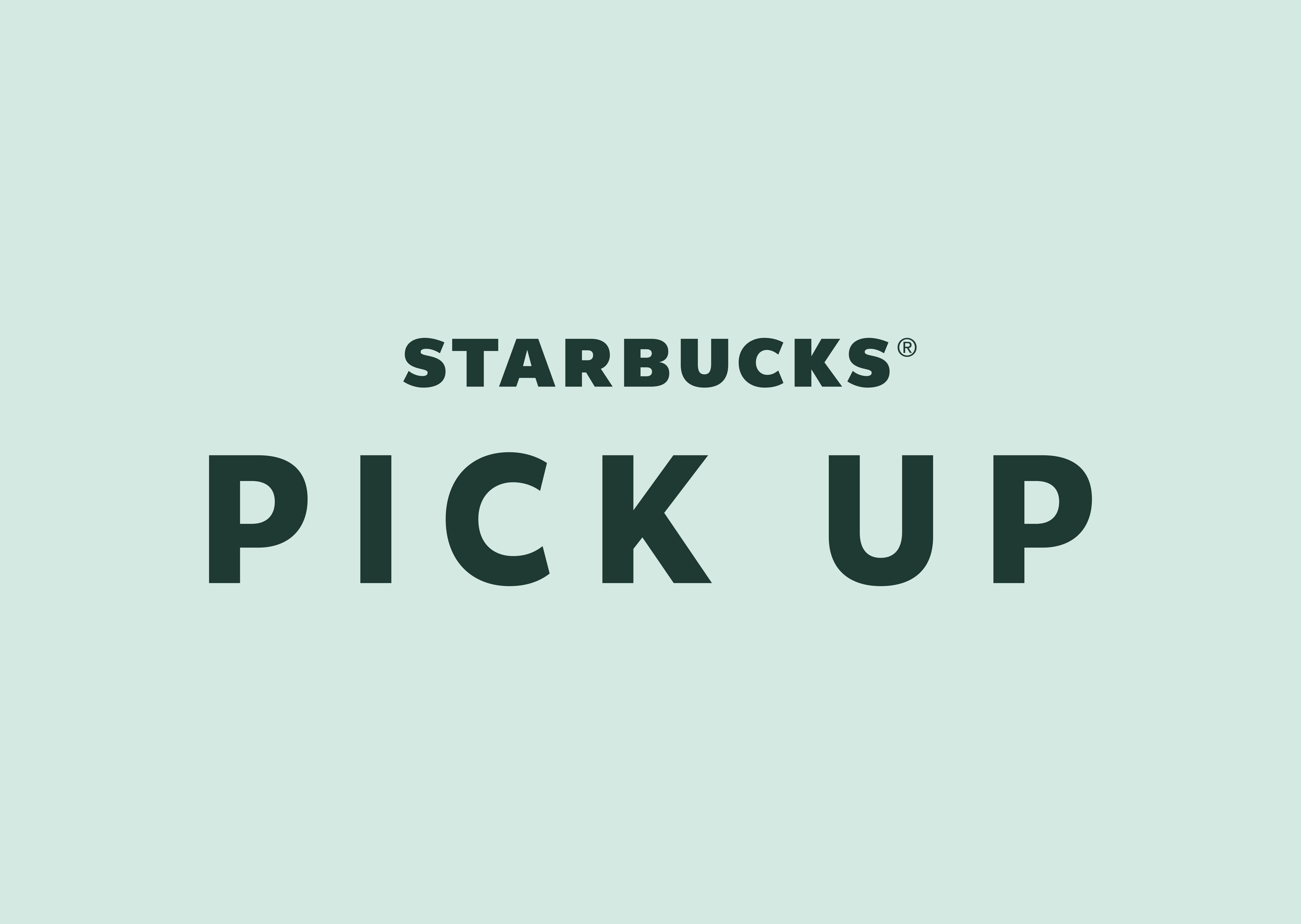 Introducing Starbucks® Pick Up
Your Coffee Run Made Easy
Starbucks® Pick Up is a new store exclusively designed for mobile orders and quick pick up without the wait.
Order now
2. ORDER
Choose your nearest Pick Up location and order.
3. PICK UP
Once the status board updates to Ready, grab your items and enjoy.
Questions about the Starbucks® Pick Up experience?
Find answers from our baristas–they're here to help.
Learn more
LOCATIONS
Pick Up locations are rolling out! Check for nearby stores on our app to locate and favorite your nearest Starbucks Pick Up store.
Pick Up - Speedway & N Park Ave – Tucson

Pick Up - Arizona Ave & Loop 202, Chandler

Pick Up - 55th St & Broadway, Tempe

Pick Up - Artesia & Flagler - Redondo Bch.

Pick Up - Baseline & Day Crk

Pick Up - Brand & Milford – Glendale

Pick Up - Broadway & 8th – Los Angeles

Pick Up - Broadway & Curtis

Pick Up - Broadway & Front – San Diego

Pick Up - California St & Drumm St – San Francisco

Pick Up - Coalton & Rock Creek- Superior

Pick Up - Hwy 1 & Belleville - Half Moon Bay

Pick Up - Main & Ashland – Santa Monica

Pick Up - National and Overland – Los Angeles

Pick Up - Pepper & Plum

Pick Up - Santa Fe & 3rd

Pick Up - Santa Fe & 3rd – Los Angeles

Pick Up - Sierra & Marygold – Fontana

Pick Up - Union Station East Portal – Los Angeles

Pick Up - Verdugo and Cañada – Glendale

Pick Up - Western & Venice

Pick Up - Western & Venice – Los Angeles

Pick Up - Wilshire & Western Ave – Los Angeles

Pick Up - Yorba Linda & Lakeview – Yorba Linda

Pick Up-Gilroy Town Place

Pick Up - Laurel & College – Fort Collins

Pick Up - Coalton & Rock Creek- Superior

Pick Up - Stratford, Barnum Avenue

Pick Up - Piedmont & Auburn - Atlanta

Pick Up - King St & Alakea – Honolulu

Pick Up - Biscayne & NE 3rd St

Pick Up - FSU Azalea Hall

Pick Up - 227 W. Monroe – Chicago

Pick Up - 555 S. Dearborn - Chicago

Pick Up - Addison and Sheffield – Chicago

Pick Up - Prentice Women's Hospital – Chicago

Pick Up - 2063 N. Clark - Dickens

Pick Up - Lake & Waukegan

Pick Up - Wrightwood & Racine - Pick Up

Pick Up - Towson Armory Building – Towson

Pick Up - JHH Weinberg Bldg - Secure Access

Pick Up - Lechmere – Cambridge

Pick Up - Tufts Medford – Medford

Pick Up - Beth Israel

Pick Up - Ionia & Oakes – Grand Rapids ​

Pick Up - 33 S 6th St - City Center - Skyway – Minneapolis

Pick Up - Nicollet and 26th St – Minneapolis

Pick Up - 40th & 8th w/Amazon Go – Manhattan

Pick Up - 42nd & Park – Manhattan (TD Bank)

Pick Up - 52nd & 7th – Manhattan

Pick Up - 56th & 2nd – Manhattan

Pick Up - 59th - Park & Lex  w/Amazon Go – Manhattan

Pick Up - 5th Ave between 41st & 42nd – Manhattan

Pick Up - 67th St & Columbus Ave – Manhattan

Pick Up - 76th & Second – Manhattan

Pick Up - Broadway between 36th & 37th – Manhattan

Pick Up - Carmine & Varick – Manhattan

Pick Up - E 13th St & University Pl – Manhattan

Pick Up - North Babylon

Pick Up - Yonkers, Sawyer Place - Yonkers

Pick Up - 601 Tryon, Ally CLT Center – Charlotte

Pick Up - 9th Street Duke – Durham

Pick Up - Hillsborough & Pogue St – Raleigh

Pick Up - Miami Univ. OH - Bell Tower

Pick Up - Ohio State University – Columbus

Pick Up - OSU Neil Ave & 11th

Pick Up - Knight Campus – Eugene​

Pick Up - 17th & Chestnut

Pick Up - Springfield - Baltimore Pike

Pick Up - Camperdown Plaza – Greenville

Pick Up - Amazon Tower 1 – Nashville 

Pick Up - Broadwest - Nashville

Pick Up - Fifth Third Center

Pick Up - 22nd & Rio Grande – Austin 

Pick Up - 2401 Victory Park Lane – Dallas

Pick Up - 2nd & Commerce – Fort Worth

Pick Up - City Centre – Houston 

Pick Up - Hillcroft & US 59

Pick Up - Hwy 59 & Hwy 762

Pick Up - I-35 & Valley Mills

Pick Up - VCU Main and Harrison – Richmond

Pick Up - 1001 W Main St – Charlottesville 

Pick Up - 1st & Denny – Seattle

Pick Up - 1st & University – Seattle

Pick Up - 4th & Bellevue Way – Bellevue

Pick Up - Downtown Redmond – Redmond

Pick Up - U Village North - Seattle

Pick Up - IAH Pick Up Terminal E Gate 1