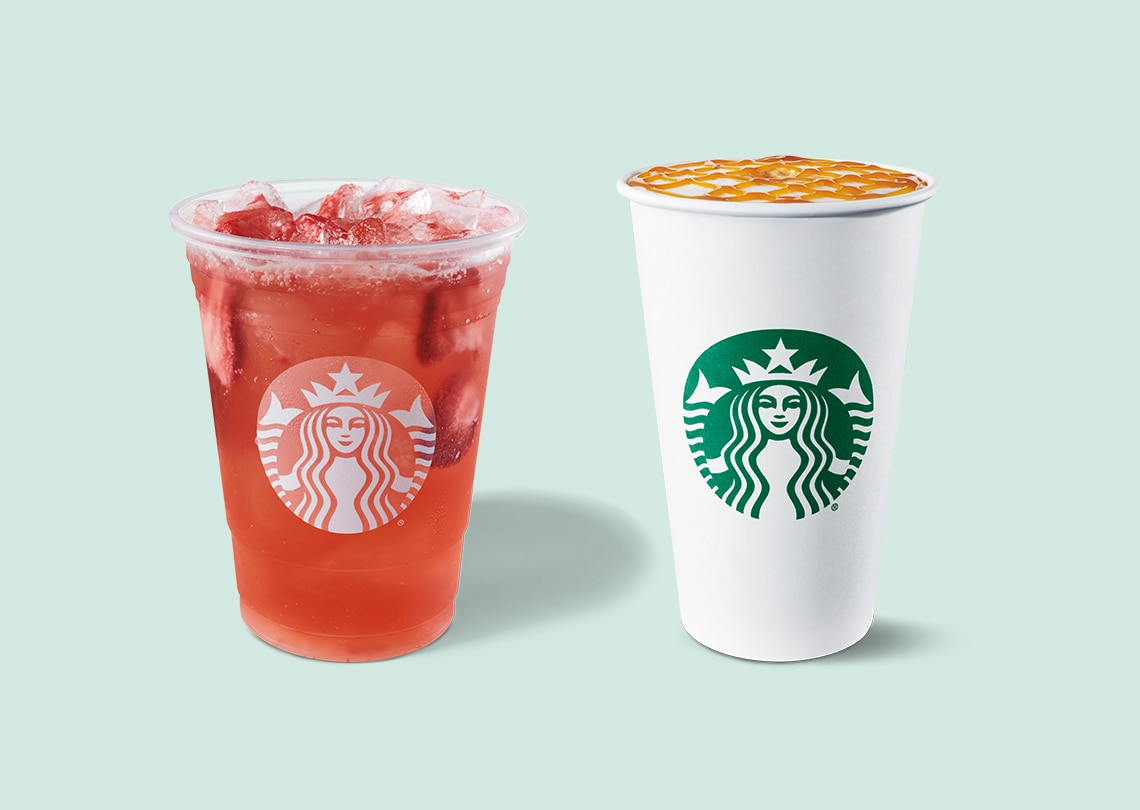 Starbucks Happy Hour – Thursdays are twice as nice
One for you, one to share. Or not.
Get two of your favorites for the price of one during Starbucks® Happy Hour on select Thursdays each month, from 2 p.m. to 7 p.m. at participating stores. Our app is the best place for Happy Hour alerts and offer redemptions.
Download the App
Select Thursdays.
Happy Hour happens every few weeks. But it's always a Thursday from 2 p.m. to 7 p.m. and it's always BOGO. And don't worry, we'll let you know when it's happening and add the coupons to your home screen within the app. Make sure to enable push notifications for the Starbucks® app on your phone to receive Happy Hour alerts.
One is good. Two is better.
Buy one handcrafted drink (grande or larger) and get the second one (of equal or lesser value) absolutely free. But what do we mean by "handcrafted"? Good question. Handcrafted drinks include all espresso-based drinks, Frappuccino® Blended Beverages, seasonal drinks, iced teas, cold coffees and, yes, even Nitro.
Let's talk coupon redemption.
The good news: you can redeem one BOGO coupon per Happy Hour. The better news: You can order as many qualifying drinks on that single order as you'd like; they'll all qualify for BOGO.
Most drinks are included.
The only exclusions to Happy Hour are hot brewed coffee, hot tea, ready-to-drink beverages (bottled water, bottled juice, etc.), Starbucks Reserve® drinks and alcohol.
Many stores participate.
Some locations in grocers, retailers, airports, hotels and schools do not. Use the store locator in our app to make sure your store is open.
Not a Starbucks® Rewards member? No worries.
All you need to participate in Happy Hour is the Starbucks® app. If you just downloaded the app and signed up as a Starbucks® Rewards member, you might not see today's coupon. Try this:
Sign out of your account
Close the app and relaunch
Click the Happy Hour card on your home screen
Enjoy your BOGO
Let's talk Bonus Stars.
Your paid beverage (the more expensive one) will count towards the completion of any relevant Bonus Star offers. If an offer is visit-based, you'll receive those Bonus Stars too.
Valid on select Thursdays from 2-7 p.m. at participating Starbucks. Buy any handcrafted drink, grande or larger and get one of equal or lesser value free. Excludes hot brewed coffee or tea, Starbucks Reserve® beverages and ready- to-drink beverages. Cannot be combined with other offers or discounts. Offer valid for one-time use. Store hours vary. Check the app or Starbucks.com for mobile payment availability and hours of operation.